Finally friday! Yes – Wuhuu.. The weekend is really close by, and I am so looking forward to it ♥
And .. well .. It is also time to put on your finest clothes. The clothes that are hanging crying in the closet, missing you 😉
Celebrate dressup friday with me. Make some magic and go to work a bit prettier than usual – Greet the weekend.
---
Weekend plans?
Do you have any great, fun & party plans for this weekend?
I don't. I am just going to chill, cook & blog – 3 of my favourite "activities" in the world 😉
I have really been looking forward to it – with all the plans and stress we have had.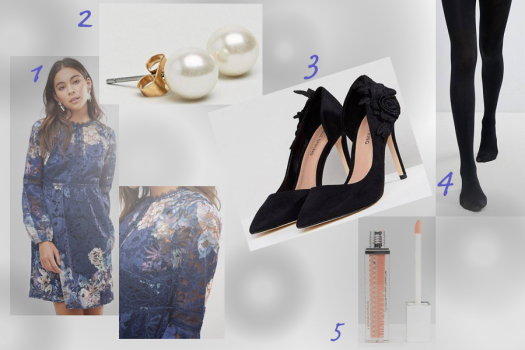 1. Dress // 2. Earrings//3. High heels //4. Tights //5. Lipgloss
---
I am totally in love with this dress from 'Little Mistress'. It is so beautiful & delicate. Lace, flowers & beautiful colours – I'm in love ♥

This dress are really getting you in a summer mood 🙂

Nice pearl earrings. I love them – and I have a lot of them already, in different sizes & colours.. I just can't get enough of them 😀 They go with most looks, and are toning your look a bit down, so that it doesn't get to much 🙂
So gorgeous high hells from 'Call it spring'. The name fits very well, because ….. Spring is close (oh, yes it is 😉 ). We continue at the flower path I have started here 😉 They match the beautiful dress (that have flowers all over) and also, the last #dressupfriday dress had flowers on it! Oh yes! It's just beautiful 

♥

Black tights from 'Monki'. Yeah, well .. It is still not weather for bare legs! 🙁
Look at this amazing lipgloss from 'Winky Lux'. Neutral & beatiful nude colour, so that your dressy-friday-work-look will not be to much! It is perfect! 😀
Besides that, it does not contain gluten or parabens, it contains vitamin-E & it is cruelty-free. That means that these products are not tested on animals! This is very important for me.. No animal should suffer for my beauty. That is just horroble!
Prepare yourself for friday – Take a picture of your beautiful friday outfit, upload it to IG & tag with:
#Dressupfriday #festligfredag #DressupfridayMM
I would love to follow you & dressup journey ♥ ♥
Have an amazing weekend.
XOXO