The weather has been great the last couple of days – Lots of amazing sunshine.
Please let this great weather continue, Thanks! 🙂
Aaaaand … It is also the last friday of the month! Let's cellebrate that ❤ yay!
Put on your finest friday outfit, and welcome the weekend with manér 🙂
That is what me & my colleagues does.
I just don't understand that we already are in March month, pretty soon.. wow! That's so wild…. and, a bit scary that I don't feel like I am living my life – I am just exisiting!
Time flies.
I have to be better to stop & enjoy the little moments in my life.
---
Below, I have found a really great friday outfit. I love it, myself ❤
It is beautiful, delicate, romantic & pink! Again.. Love it!
Who wouldn't greet the weekend in this outfit? ?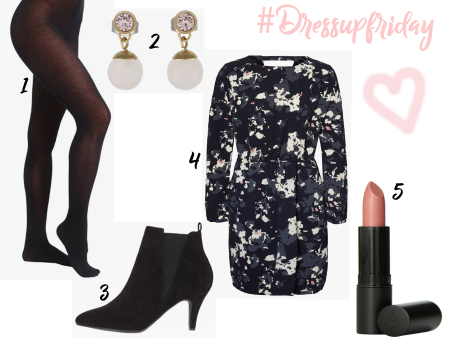 1. Tights //2. Earrings //3. Ankleboots //4.Dress //5. Lipstick
---
Tights for keeping the legs warm … No, it is still not warm enough to wear no tights 🙁
Beautiful & delicate light pink earrings. They are so beautiful ♥

and matches the pink pattern on the dress & the pink lipstick perfectly

I love ankleboots, and i just can't get enough. Ankleboots are perfect & can be worn with almost everything. it gies to both skirts, dresses & pants/jeans. (yay!) These boots from Bianco are so great, and have a really nice heel size for everyday use.

So so beautiful dress. I love it! ♥

It fits great fot both summer & winter – But with the flower-ly pattern, it reminds me of summer & warm weather. The sun has shown its face a bit more the last couple of days & the weather has been cold, but beautiful – So with this dress on, I am dreaming of warmer weather 🙂 🙂

First! I love Youngblood!
Second! I love this beautiful light pink colour. It matches both the dress & the earrings, and it is also very good for everyday/work use, where the look should be more natural & not to make up-ish! 🙂 ♥
Youngblood is so great. It is all mineral based makeup, and it is not containing any parabens, parfume, colorants and other chemicals. It is also all cruelty-free! and almost completely vegan! 🙂 Amazing!

♥



---
Prepare yourself for friday – Take a picture of your beautiful friday outfit, upload it to IG & tag with:
#Dressupfriday #festligfredag #DressupfridayMM
I would love to follow you & dressup journey ♥ ♥
Have an amazing weekend.
XOXO