Well .. February has arrived ( a whilw ago 😉 ), and I already think that we have had lots to do! 🙂 yikes!
We started this month by getting Alexander home, and to cellebrate his birthday, that was 2 days ago  – the 6th 🙂
Saturday we wnt to TGI Fridays, and had a delicious dinner – They also had sundae & birthday-singing for Alexander.
Sunday we threw a kids-birthday-party. 10 kids (or … BOYS! 😉 ) Wow! That was a hard one. Not our turn next year 😉 Then it is his mom's turn to do it.
They just all make each other wild – Seperately they are very nice boys! ♥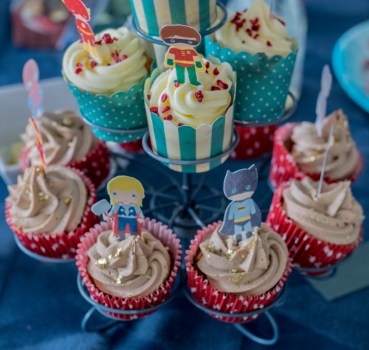 2 days ago it was Alexanders birthday. We let him sleep a little longer than he use to and then woke him up with singing, presents & banana pancakes (He loves them! And they are healthy – so that's just great) 🙂
In birthday present he got a great fotball & a table tennis set active, when he are with us.
He have wanted a table tennis bat (and balls of course) for a very long time. In the basement at our appartment, there are table tennis – and he could never play it 😀
So, on his birthday – after schoohe took a friend home with him, so that they could try his new bats! They had such a fun time 🙂
---
This week, I have also been feeling a bit sick!I have not been working out this week :/ Not good!
That is just so typical my body.. I always go around for a long time, and are not feeling well. But I am not getting sick either.
I am just walking around coughing & feeling blah!
When you feel that way, You just want to get sick and get it over with
I really hope that I can do (almost) nothing this weekend. I really need that! 🙂
Just load the batteries, before yet another birthday 😉 Phew!
---
My plans for February:
Work out .. Very important! 😉
Throw a childrens birthday for Alexander, who is turning 8 years old
We had his birthday, last weekend – 10 kids! oh my god.
They were wild! We had a superhero birthday, with buns, superhero cupcakes, tresure hunt, smoothies & candy 🙂
Throw a family birthday for Alexander
Besides having the birthday for his frinds, we will of course also have a birthday for the family.
The birthday will be held, saturday the 17th – It is a bit hard to get everything to fit, as he also is at his mothers 😉
My plan for this birthday, is to make some delicious burgers, with homemade burger buns – With beef & panko breaded chicken (his favourite)
I think people will love that! ♥ I think it would be awesome to make some fries, chili mayo & milkshakes too 😀
A birthday visit to TGI Fridays
We cannot go out and eat on his actual birthday, as it is a week day, and he has to get up early the next day 🙂
So we went to TGI's last saturday (Me, Peter & Alexander) to celebrate his birthday.
We had promised him, a long time ago, that we would go there and told him about, that he gets ice cream on the house and a lot of singing. He did not forget that haha! So we tricked him, and told him that we would eat some other place – where there was no ice cream & singing. he was very dissapointet haha.. But also very surprised when he saw that we were joking 😉
A little tip! Try their mango/passionfruit smoothie – It is delicious

♥

Out for dinner with 2 of my sweetest girlfriends ♥
We are eating at our favourite sushi restaurant. It is placed in the greater Copenhagen – Charlottenlund.
It is so goood! it is 'all you can eat', cheap, freshmade, delicious! If you are in Copenhagen – then give this a try 😉
Visit my grandparents
know which date yet – we'll see how it fits. My grandfather is travelling to Egypt soon, so I hope that Thry and we have see ea this month. They live a bit far from me. so I don't see them as often as I would like. We visited just before christmas, so now it's time again 🙂