Vegetable waffles .. So good! Have you had it before? or just other dinner/lunch waffles..?
Vaffles that are mad as food & not dessert are so delicious & is a healthy, beautiful & fun way to have dinner 🙂
They are so good & they are fun for children as well.
My vegetable waffles is made with svallions & carrots, and then the waffles are filled with delicious lettuce, vegetables & chicken.
They are very beautiful to serve at a party. You can serve all the filling in different serving bowls & then the guest can make the waffles themselves – Just as they want 🙂
Recipe
Yield:
Ingredients:
Waffles
260 grams of corn flour
4,5 dl plantmilk (or ordinary milk)
2 scallions
2 handfull grated carrots (or buy pre-grated carrot)
1 ½ tsp baking powder
3 eggs
1 tsp dried chili flakes
Butter for the vaffleiron (vegan butter, coconut oil or ordinary butter)
Salt
Filling
4 – 5 chicken filets (aprox. 500 – 600 grams)
1 bag of radishes
300 – 400 gram of cherrytomatoes (preferably in different colours)
1 bag curly salad (or other kinds)
1 bag of arugula (75 grams)
Humus
2 avocado
1 lime
Parsley
---
How to make it:
Waffles
Heat up your waffle iron
Wash the scallions & carrots
Peel of the outer layer of the scallions & skice them
Grate the carrots (if you haven't bought pre-grated)
Add corn flour & milk to a bowl
Mix it well
Add the eggs
Mix again
Add the vegetables, bakingpowder, dried chili & salt
Mix it all very well together
Cover with cling film & store in the fridge until you are going to use it (or use rigt away)
* When the waffles are baked – Add to an oven grate, to cool a bit
Add the filling & eat them with fork & knife or fold them and eat as a sandwich
Filling
Make the

humus

Wash the salad and store in a bowl for later
Wash tomatoes & radishes. Slice & store in bowls for later
Wash & chop the parsley
Peel the avocado & remove the stone
Slice it & store in bowl for later
Roll a lime (to release the juice) & cut into wedges (the juice should be squeezed on top of the filling in the waffle)
Cut fatt & tendons of the chicken
Add water to a pot, add salt & bring to a boil
Add the chicken & leave to simmer for 30 minutes
When the chicken is done, add to a bowl & use an electric beater to tear the chicken apart – Add to a bowl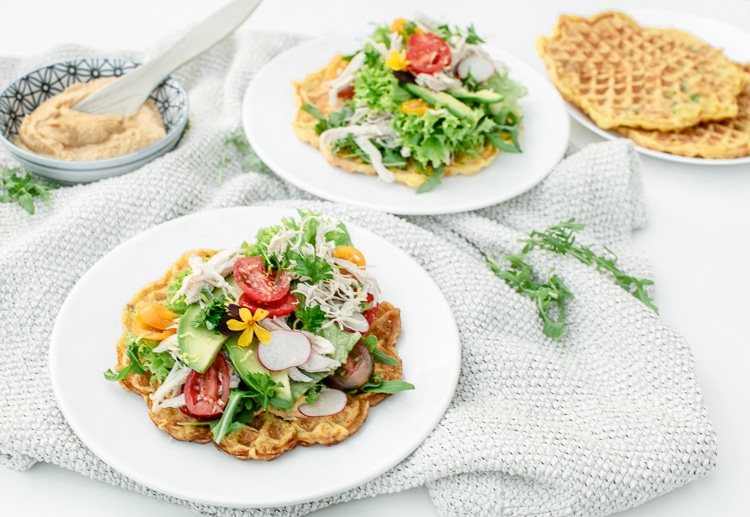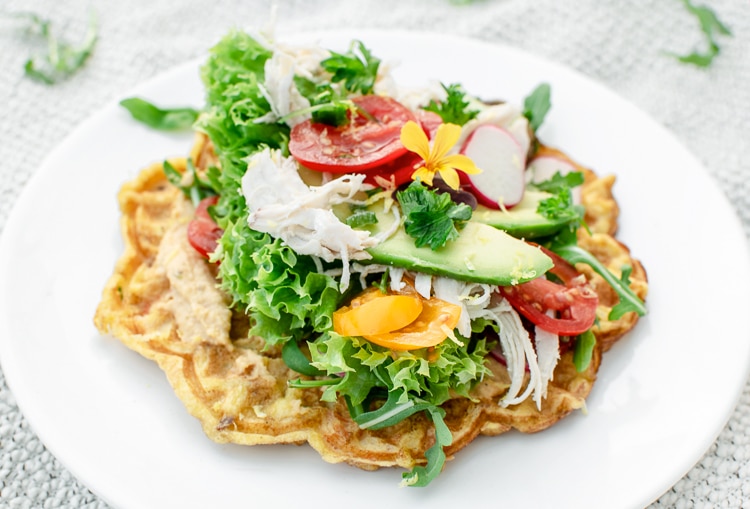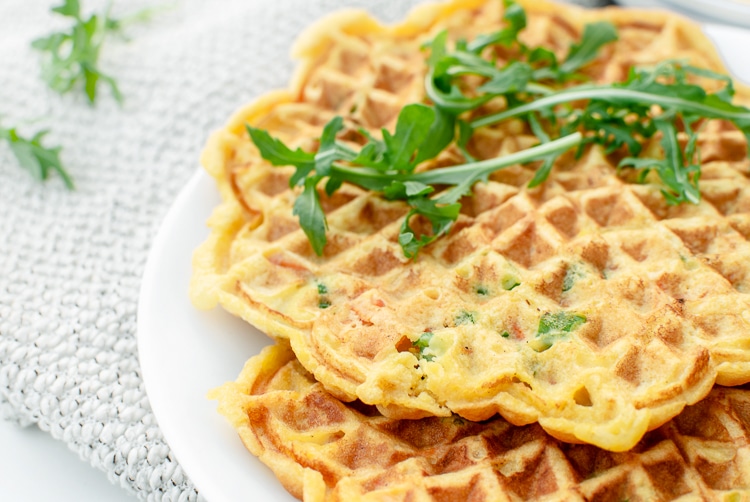 Other waffle recipes
⇒ Greenie waffles with smoked salmon
⇒ Waffles
---
⇒ Remember to follow me on social media! It is possible to follow the blog on Instagram, Bloglovin & Facebook.
If you want .. Post a comment below.
Should you have any questions – I always answer ASAP (below in the comment field, contact form or on e-mail)
You are also very welcome to join my newsletter ..
Find the subscription to my newsletter, below this post