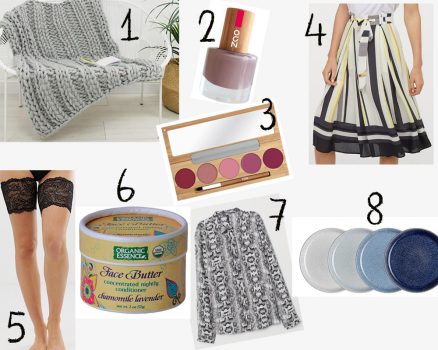 Knitted plaid from ASOS

 // 2. 

ZAO nail polish

 // 3.

ZAO lipstick palette

// 4. 

H&M skirt

// 5.

Lace chafing bands from ASOS

 // 6.

Facebutter from Organic Essence

// 7.

H&M shirt

 // 8. 

Plates from Denby Studio
---
About the stuff:
1. Nice, warm & cuddeling plaid from ASOS
I love it .. It is so cozy ♥
2. Nail polish from ZAO.
I am really looking forward to trying it out.
This nailpolish is fast drying & contains silica (From bamboo)
It is free from all the dangerous chemicals, that ordinary nail polishes contains.
ex. Softening chemicals (YIKES!)
.. Formaldehyde, camphor, rosin, phthalates, toluene, parabenes, silicone & halone free.
I think that I will start out with a nice nude colour, that goes with everything.
3. Beautiful palette with lots of lip sticks in different red shades.
It goes with a brush, to put the lipstick in a nice layer on your lips.
beautiful red shades in bamboo packing 🙂
You can take out the lipsticks & replace some of them with eyeshadow, so that you always have both with you – Pretty smart! 🙂
4. I love this skirt – I saw it on the website, some days ago, and I instantly just thought 'WAUW!'
So in love ♥
I am short little lady – Only 5 ft, 1.
But despite that, I am going more & more in longer skirts & dresses (Dresses that goes to my feet or a bit shorter)
I really like it.
I have already bought this. I tried it out, but it was to small – OMG! I couldn't breathe haha 😀 .. I have ordered a new one – 1 size bigger.
I really hope that it will fit now. This skirt is perfekt for both summer & winter ♥
5. Lace chaffing bands for your thighs.
Even if  am a petite little lady, I actually have pretty big thighs (& bum :D)
In the summer, the thighs scape through each other, under the skirt/dress, when I walk, and then I can get some pretty nasty wounds on my inner thighs 😉 (So need 1 set of these)

6. I really need to try this night face cream out – It looks so nice & environmentally friendly.
This cream comes in a compostable/plastic free packing .. & it is not animal tested! (Important!)
It is a natural & organic night cream with lavender – Lavender soothes & moisturizes your skin
it contains: lavender, mango butter, chamomile, carrot, vitamins etc.
7. I love this shirt with snake print ♥
It is 100% viscose – Nice soft & breathable.
It is so cool, and I love patterns (and colours) – I like that more, as I get older 🙂

8. These plates are gorgeous.
I didn't know the label before, and I randomly saw these while I was surfing for different stuff.
I am totally into these plates – I love the colours ♥
Nice blue shades. They will make every table great & festive. Mix & match all of the plates, in different shades.
– These are up high, on my wishing list