I just love chili con carne .. It is so delicious ♥
My chili con carne is filled with taste & spices – Chili con carne is perfect as autumn & winter food.
If you mix the delicious oven roasted sweet potatoes with chili con carne it becomes so perfect.
These creamy & karamelized sweet potatoes are perfect for this.
I both make this dish for leftover chili con carne (Makes it more filling)& I make it as a whole dish 🙂
---
Recipe
Yield: 4 persons
Ingredients:
Sweet potatoes:
2 big sweet potatoes or 4 – 8 small sweet potatoes
Olive oil
Sea salt
Chili con carne:
Olive oil
2 red onions
2 cloves of garlic
400 – 500 grams of ground beef
1 tsp ground cilantro
1 tsp cumin
2 tsp paprika
1 cinnamon stick
1 Bay leaf
1 chili (or more)
1 can of chopped tomatoes
1 can of tomato paste
1 dl beef stock
1 can of kidney beans
1 can of butter beans
1 pack of cherry tomatoes – 250 grams (8 cherry tomatoes for the chili con carne & the rest for topping)
Salt & pepper
Tortilla chips
1 avocado
1 can of creme fraiche
1 lime
---
How to make it:
Sweet potatoes:
Preheat the ovne to 200 degrees, hot air
Use a baking plate, with baking paper on or a ovenproof dish
Wash & scrub the sweet potatoes
Dry them with kitchen towel
Cut each sweet potato in half (On the long side)
Pour olive oil on each potato (in the meat) & sprinkler with a nice amount of sea salt
Add the potatoes – with the bottom up (The meat down on the dish), to the baking plate, with baking paper on or the ovenproof dish
Put in the oven
– Big: 40 – 50 minutes
– Small: 30 minutes
→ Leave the potatoes in the oven to cook, while you prepare all the other for the meal
Chili con carne:
Chop garlic & chili
Cut cherrytomatoes in quarters
Heat u oil in apot and add onions, garlic & chili
Fry until the onions are soft
Add ground beef & fry until it is brown
Add the spices & stir
Add chopped tomatoes, cherrytomatoes, tomato puré, stock (bullion), bay leaves & cinnaon stick
Mix well, bring to a boil & then turn the heat doen
Put on a lock & let it simmer for 1 ½ hour (Stir once in a while)
Season with salt & pepper after 1 ½ hour
Serve in sweet potatoes (Mash the meat loose from the potato) & top with cherrytomatoes,  avocado, crushed tortillachips, creme fraiche & lime juice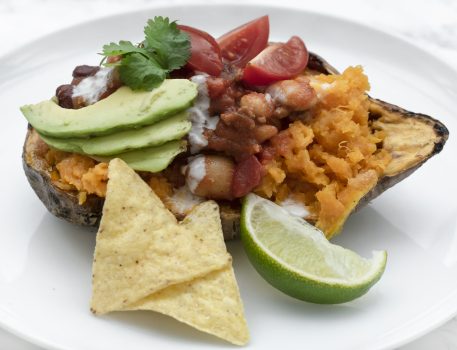 ⇒ Remember to follow me on sociale media! You can follow the blog on Instagram, Bloglovin or on the blogs Facebook site. You can also write a comment on this post – Below .. Should you have any questions – I always answer ASAP! 🙂
You are also very welcome to join my newsletter .. Find the subscription to the newsletter, below this post