Jeg er helt vild med 'chili con carne' … Jeg startede med at lave det for et par måneder siden – før det, havde jeg aldrig smagt det! Utroligt nok.
Min kæreste siger at det jo bare er en slags kødsauce … Men det synes jeg ikke! 'Chili con carne'er bare noget helt for sig selv. Og med en masse af det rigtige topping, er det en virkelig lækker ret! ♥ ♥
Jeg har eksperimenteret med min 'chili con carne' et stykke tid nu, og jeg synes den er helt perfekt!
Mums! jeg kunne spise det hver dag 😉
Det er en skøn spise til efterår & vinter, hvor man gerne vil have lidt varmere & tungere retter.
---
Recipe
Yield: 4 persons
Ingredients:
Olive oil
2 red onions
2 cloves of garlic
400 – 500 grams of ground beef
1 tsp ground cilantro
1 tsp cumin
2 tsp paprika
1 cinnamon stick
1 lBay leaf
1 chili (or more)
1 can of chopped tomatoes
1 can of tomato paste
1 dl beef stock
1 can of kidney beans
1 can of butter beans
1 pack of cherry tomatoes – 250 grams
Salt & pepper
Serve with: Basmati rice, tortilla chips, creme fraiche, lime, avocado, cilantro & tomatoes
---
How to make it:
Chop garlic & chili
Cut cherrytomatoes in quarters
Heat u oil in apot and add onions, garlic & chili
Fry until the onions are soft
Add ground beef & fry until it is brown
Add the spices & stir
Add chopped tomatoes, 8 cherrytomatoes, tomato puré, stock (bullion), bay leaves & cinnaon stick
Mix well, bring to a boil & then turn the heat doen
Put on a lock & let ir simmer for 1 ½ hour (Stir once in a while)
Season with salt & pepper after 1 ½ hour
Serve with rice & delicious topping
---
⇒ TIP:
En almindelig supermarkeds chili, gør ikke retten stærk – Så den er helt børnevenlig med chili i. Hvis du vil have den stærk, så brugen stærkere chili ….
– Jeg kommer til at lege lidt med forskellige chilier i min chili con carne, så opdaterer jeg opskriften, når jeg har den perfekte stærke kombi 🙂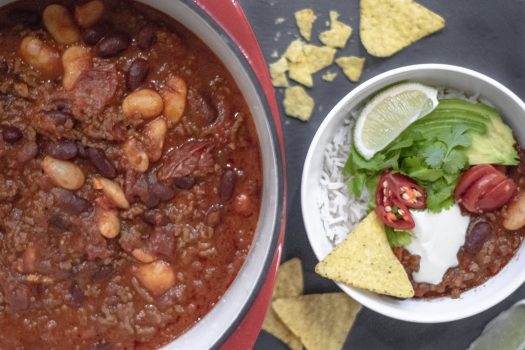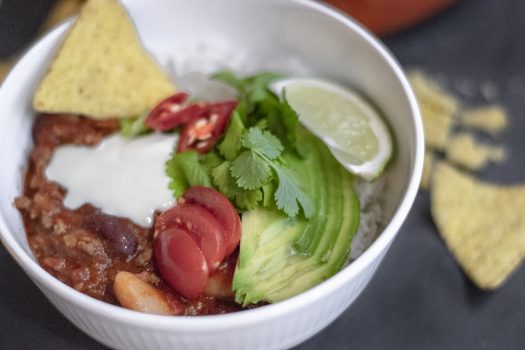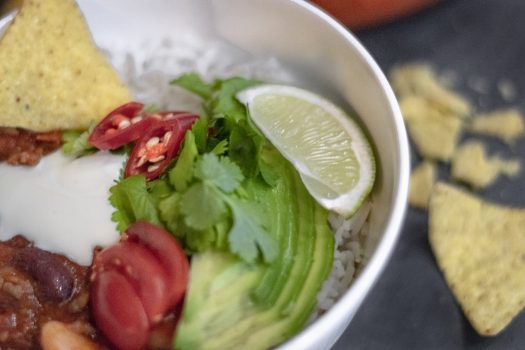 Jeg er helt vild med min nye røde støbejernsgryde, som jeg har lavet min chili con carne i ♥
Den er simpelthen så flot og jeg glæder mig til at lave mange flere gryderetter i den.

Jeg er kæmpe fan af Amazon. De har så mange fede ting – Billigere end i Danmark, eller ting du ikke kan købe i Danmark.. Jeg bruger det en del 🙂