I love poached salmon.
It is so easy to cook, taking care of it self in the pot, besomes so soft & is really delicious ♥
You cannot ruin a poached salmon – it will not become dry.
To this delicious poached salmon, I serve ovenbaked tomatoes & asparagus. Yum!
Great summer food.
You can cook salmon in many different ways.
I love salmon cooked in oven too – But poached is my favourite.
I do not fry salon, that often.
---
Recipe
Yield: 4 persons
Ingredients:
1 side of salmon (600 – 750 grams)
1 kg baby potatoes
1 bundle of asparagus
1 can of bearnaise
500 grams of cherry tomatoes
1 lemon
Garlic (3 cloves of garlic + 16 extra cloves)
50 grams of butter
Oil
Sea salt
---
How to make it:
Salmon:
Cut the salmon into portion pieces (4 – 5 pieces)
Pour water in a big pot & heat up the water until boiling point
Pour in the salmon pieces & take the pot of the heat
Leave the salmon in the water for 20 minutes
Carefully take the salmon up from the pot (with a skimmer)
Sqeeze lemon juice on top & sprinkle with sea salt
Potatoes:
Preheat the oven to 180 degrees, hot air
Wash the potatoes (Cut the big ones in half, so that all potatoes have the same size)
Add to a freezing bag or container. Add olive oil, thyme (ex. 3 long stems) & 3 pressed cloves of garlic
Peel 16 cloves of garlic & add to the bag/container
Mix it all very well & pour the potatoes out on a baking plate (With baking paper on)
Sprinkle with sea salt
Heat in the oven for 1 hour
Ovenbaked tomatoes:
Wash the tomatoes & add to an ovenproof dish (That fits in size)
Add olive oil & mix well
Grate (finely) a lemon on top & sprinkle with sea salt
Heat in the oven for 30 minutes
Asparagus:
Wash the asparagus & break of the ends
Melt the butter in a pot
Add asparagus & ½ dl water
Put on the lid & let simmer on low/medium heat for 2 – 3 minutes
---
The order, I make this dish in:
Preheat the oven
Prepare the tomatoes & asparagus – Set a side (Do not cook yet)
Prepare the potatoes & put in the oven for 30 minutes
After 30 minutes, you add the dish with tomatoes too. heat for another 30 minutes
Heat up the water in the pot & add the salmon
When the salmon is done, you take it up & quickly wash the pot
Damp the aspargus in this pot & heat up the sauce in a sauce pan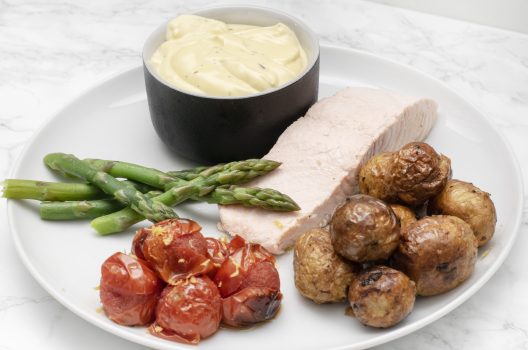 Some information, about the ingredients in this dish:
Salmon
Salmon is healthy … You just need to buy the right kind of salmon.
As I understand it, then you should stay away from Norwegian salon:
it is bred & the salmon is stuffed with antibiotics, colourants etc. (Then it's not that healthy to eat salmon anyway, hah?)
It is so disgusting, to think about, that it is legal for companies & breeders to fill you with all of that sh*t! 🙁
As I understand it, you should try to buy wild salmon, faraoe salon (That is bred to, but they have much stricter rules about, what to give the fish) or greenlandic salmon.
I have searched in my supermarkets.
And There is only one solution for me, if I want ex. smoked salmon, that is not bad for my body.
It is: 'Sockeye wild salmon from Alaska'.
if you get the right kind of salmon – It is very healthy & contains:
Omega-3 fatty acids
Lots of protein
Vitamin-D
B12 vitamins
Selenium
Calcium
---
Asparagus
Asparagus are so healthy & so delicious.
They contain:
Vitamin-K
Calcium
Folic acid
carbohydrate, Inulin
* Inulin is a prebiotic in the intestine. Which means that it serves as food for the good intestinal bacteria
Asparagus also takes good acre of your liver
---
Tomatos

Tomatoes are low in calories & contain only 20 kcal pr. 100 grams.
You can get tomatoes in a lot of different colours.
It is very beautiful in a salad or in ovenbaked tomatoes, to use different kinds 🙂
Tomatoes contain:
Low calories
Vitamin-E
Vitamin-C
Beta carotene
Fibers
Antioxidant, Lycopen
* You increase the absorption of lycopen, if you cook the tomatoes.
Your lycopen intake will increase with 25 – 40% if you consume baked tomatoes, fries tomatoes, cooked toamtoes, chopped tomatoes or tomato puré.
---
Potatoes
Potatoes are very filling, and contains:
Iron
Potassium
Vitamin-B
Vitamin-C
* Potatoes with the peel on, contains enough vitamin-c that 250 grams are enough to cover half of your daily intake.
Potatoes are fatt free & the starch level are much lower in potatoes than in bread, rice & pasta.