I love this vegetarian recipe, that contains lovely quinoa – The recipe contains egg & parmesan, if that is a wish 🙂
This dish is so good & contains a lot of delicious vegetables.
The egg on top, is the final touch of the dish – It just glues the dish together 🙂
This is a great autumn dish ♥
I love quinoa.
Quinoa is so delicious & it is a great replacement for rice 🙂
---
Recipe
Yield: 4 persons
Ingredients:
70 grams of chopped curly kale
1 bundle of scallions
20 grams of ginger
2 cloves of garlic
1 big sweet potato
1 lime
7 dl cooked quinoa (Aprox. 3 – 4 dl uncooked quinoa)
½ dl soy sauce (I use soy sauce with Yuzu)
Parmesan
Min. 4 eggs
---
How to make it:
Cook the quinoa
Heat up a pan (High heat) & add olive oil
Peel & chop the garlic
Peel the ginger
Peel of the outher layer on the scallions & slice them
Wash & chop the kale
Peel the sweet potato & cut in small pieces (Aprox. 2×2 cm)
To the hot oil, add garlic & scallions
Fry until the scallions are soft
Add the sweet potatoes & fry them, until they are done & has gotten colour – Aprox. 15 minutes (Stir, once in a while)
Add the kale
Stir it well & add quinoa
Grate the ginger & add to the stir fry
Season with soy & lime juice
Fry while you stir
Make the fried eggs – Only fry it on the flat side. The yolk, shoul be fluid when you pick it
Serve the stir fry with fried egg on top & sprinkle with fresh grated parmesan 

♥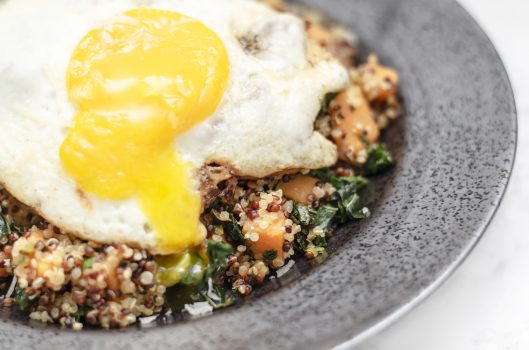 Health info about the ingredients in this dish
Quinoa
I love quinoa ♥
Did you know that quinoa is related to rice & beets? Weird, ha? 🙂
Quinoa is a seed from a plant, that can be cooked & eaten like rice.
Quinoa contains a bit more fat than rice, but they also contains lots of fibers & proteins 🙂
Quinoa contains:
Vitamin-B (Lots of vitamin-B6)
Vitamin-E
Folate
Niacin
Thiamine
Fibers
Omega-3
Protein
Iron
No gluten
---
Sweet potatoes
Sweet potatoes (or 'batata' – As it is also called) contains less calories than an ordinary potato, but then also contains less proteins.
Sweet potatoes contains vitamin-A & more vitamin-C, than ordinary potatoes.
But then ordinary potatoes contains other great stuff 🙂
It is quite funny that the two of them always get compared, as the sweet potato (batata), actually isn't a potato, but is related to the pumpkin.
Sweet potatoes contains:
Vitamin-A
Vitamin-C
Vitamin-E
Vitamin-B6
Calcium
Iron
Magnesium
Fiber
Beta-carotene
* Beta-carotene is what gives the vegetable its orange colour.
If you have a daily intake of more than 30 mg beta-carotene, then you are able to get an orange coloured skin 🙂

More dishes with sweet potatoes
⇒ Baked sweet potatoes
⇒ Sweet potato soup
⇒ Chicken skewers with diced sweet potatoes
⇒ Samosa with sweet potato
⇒ Chicken drumsticks with sweet potatoes
⇒ Sweet potato fries
---
Curly kale
Curly kale are super healthy & is related to some of the most healthy vegetables, as broccoli & brussel Sprouts, among others.
Curly kale is a superfood ♥ It is a superfood because it contains all the most important amino acids 🙂
Curly kale contains a lot of sulforaphane.
sulforaphane are amazing to your skin & keeps it young! (very important 😉 ) … Sulforaphane also protects the skin against pollutants.
Curly kale is filled with vitamin-K.
1 portion of curly kale cover your daily need of vitamin-K with 778%.
Curly kale are also amazing to store.
Wash & rinse it very well & then store it in a box or plastic bag in the fridge – It can be stored for 3 weeks 🙂
Curly kale contains:
Vitamin-A
Vitamin-C
Vitamin-K
Lutein
Fiber
Calcium
Sulforaphane
Chlorophyll
Phosphorus
Manganese
Magnesium
---
More dishes with curly kale
⇒ Smoothie with curly kale
⇒ Curly kale salad
---
⇒ Remember to follow me on sociale media!
You can follow the blog on Instagram, Bloglovin or on the blogs Facebook site.
You can also write a comment on this post – Below .. Should you have any questions – I always answer ASAP! 🙂
You are also very welcome to join my newsletter ..
Find the subscription to the newsletter, below this post