I am counting the weeks .. Soon I am counting the days!
Oh my god! I am so looking forward to sitting in a plane, on my way to Greece 🙂 Yay!
Not so much because of the warm weather there .. Because, Wow, we have great weather here in Denmark (If we have known that, then maybe we hadn't bought this trip haha .. We should have travelled last year – That was a really crappy summer).
Well .. I am looking forward to it. It is nice to get away from home, and really be able to relax ♥
So .. We are going to Kos.
And we are going to live in Kos town – Right next to the harbour (almost 😉 )
I (or .. None of us) have ever been in Kos.
When I was child, I remember being in Cyprus & Greece a lot on vacations. That was the in place! haha
And I remember Greece as a lovely country.
So now we'll try again.
I don't really know what to see – Haven't planned much – And we are not renting a car.
---
I think we will take it all as it comes – But I have though reseached a bit, and have found a boat trip to go on.
I think we will join the – Christina, 3 island cruise.
It is going to be sooo exciting.
It is a boat trip that takes hours.
Hopefully we will see some dolphins – I really hope so for Alexanders sake 🙂
Well, of course I also want to see dolphins, but I have already been lucky to see a group of playable dolphins out on sea on Grand Canaria once.
Besides the dolphins, we will also visit 3 different islands, with the boat, bath in the sea & eat a delicious barbeque that the captain (or maybe his wife?) has cooked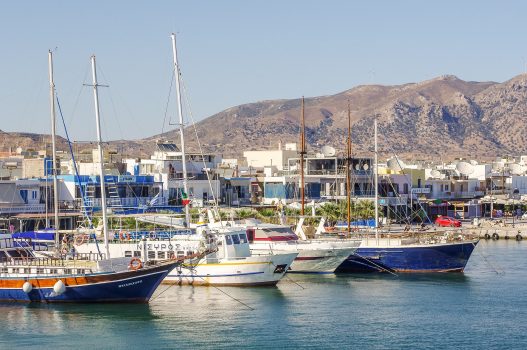 Churches & go hiking
We will of course have to see the lovely churches that they have in Greece.
They are so beautiful – Beautiful colours ♥
And Alexander has an idea, that we should go hiking in the mountains.. I would love that! And I think it is awesome that he really wants to & that it is his suggestion! 🙂
Not all kids that is coming voluntarily on a hike – Great great!
Or .. His idea actually was to go climb the mountains..
He wanted us to have rope, climbing equipment, lamps & a mountain axe .. Haha .. (I just see the 7 dwarfs in front of me – Just without the climbing equipment of course 😉 )
He thougt that it would be great to climb the mountains, find a cave to climb into & then chop out diamonds from the cave with the mountain axe 😉
oooh my god, that childs imagionation 😀 ♥
I then had to explain to him that we had to settle with hiking in the mountains and follow the paths etc – Go long distances.
That was also ok with him – Although that action-trip probably would have been a bigger hit haha ..
Anyone that have ever been in Kos? More like around .. Kos town?
Anyone who knows someone who has been there?
It would be great to get one (or more) good advice regarding where to eat for lunch, experienses in Kos or what I just have to see in Kos! 🙂
---
→ The pictures are from Pixabay