Hello ?
I am in Kos, and have been here now in 4 days (do the first day of arrival count as a day? If it does, then 5 days haha ..) now. It is so great here❤
We have had a lot of great experienses, greek food, getting tanned and have had a lot of water (Both pool & sea)
The day of departure from Kos is coming close now. Time flies! I could really use some more days here, and I am pretty sure that Alexander could too? Again ….. It is so great here!
---
When we left for Kos I had a whole lot of hand luggage with me. I almost had the max. Of what was aloud for me to bring.
Below you can see what I brought with me?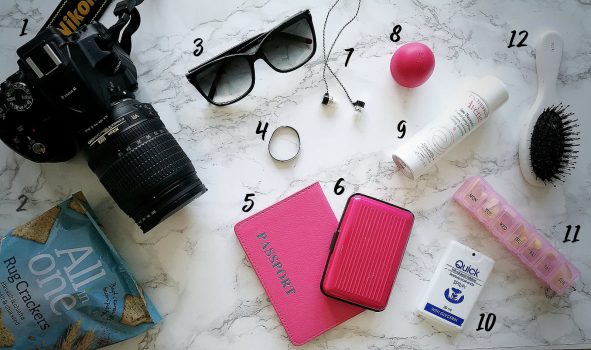 1. My Nikon D5300 camera + extra lens // 2. Rye cracker with chia & seasalt for the flight // 3. Prego sunglasses // 4. Blax hair elastics // 5. Passport(cover) // 6. Card holder // 7. Earphones – Ebay  // 8. EOS lip balm – Pomegranate // 9. Avéne thermal water spray // 10. Disinfecting spray // 11. Pill box with vitamins, allergy pills, etc.  // 12. Little hairbrush from H&M //
I my rush, I forgot to take pictures of my hand cream from Sukin & my book – Shopaholic to the stars
---
~ My camera is very important for me, to have with me everywhere and I do not dare to put it in my ordinary luggage? ..
Besides that, I cannot live without my amazing lip balm from EOS, and my waterspray from Avéne! The lip balm & waterspray is good for the flight, when your lips & skin are getting to hot & dry.       I love my Avéne spray, and it have been fully used on this vacation (It has been almost 40 degress here?) Alexander loves it, and I have to buy a new one when I get home.
I also love my passport cover & my cardholder. I don't wanna bring a big wallet on my vacation, so this cardholder is perfect for the most important cards. It can also contain money ???..
My beloved sunglasses from Prego (I have 3 pair of these?) and my pill box for mine/our vitamins, allergy pills etc.
»» If you want, you can follow my journey on Instagram ✌