I have developed my butternut squash pasta dish & added some chicken meatballs (With some delicious grated carrot in)
This is a really delicious dish, that is very popular at out house 🙂
We eat a lot of chicken.
We have it as meatballs, whole roasted, oven roasted breast etc.
It is more healthy than red meat & it just tastes great.
---
Butternut squash is a pumpkin
Butternut squash er is a pumpkin .. And pumpkins are really healthy ♥
They are beautiful, colourful & healthy. What's not to like? 🙂

Pumpkins are really filling, but actually only contains 18 calories pr. 100 grams 🙂
You will also keep a great blood sugar level, as they only contain very few carbohydrates.
Pumpkins contains a lot of folate (Folic) & if you consume 300 grams pumpkin a day, you will cover haldf of your daily intake of folate.
Pumpkins also contains A,B,C – vitamins & potassium.
---
Recipe
Yield: 2 persons
Ingredients:
70 grams of baby spinach
1 chili
½ liter cream or soycream
1 lemon
10 – 12 tbsp butternut squash puré
2 clove of garlic
500 grams of fresh pasta
Parsley
Parmesan
Chicken meatballs:
400 – 500 grams of ground chicken
1 big egg
4 tbsp breadcrumbs (Maybe a bit more)
1 small yellow onion
1 big carrot
1 clove of garlic
Salt
---
How to make it:
Wash & chop the chili
Peel & chop the garlic
Wash the spinach
Wash & chop the parsley
Grate the lemon zest finely – so that you have 1 tbsp of lemon zest
heat up a deep pan
Pour on some oil & fry garlic & chili
Add in the cream
Bring to a boil, and let it simmer
Add lemon zest & butternut aquash puré – Mix it & let it simme for a bit
Add the spinac. Let it simmer & let the spinch leaves collapse
The sauce should have a lightly thickened consistency
Season with salt & pepper og perhaps some more lemon zest
Cook the pasta – Pour it into a colander & put the pasta back in the pot
Add the creamsauce to the pasta & mix it well
Serve in bowls with chicken meat balls and sprinkle with chopped parsley & grated parmesan
Chicken meatballs:
Wash the carrots & dice it
Peel onion & garlic
Add carrot, onion & galic to a mini chopper/foodprocessor
Stir ground chicken with salt, until it becomes a form substance
Add the carrot mixture, breadcrumbs & egg
Mix it all very well
Sculp the meat, to round balls
Fry on a pan in butter, until they are done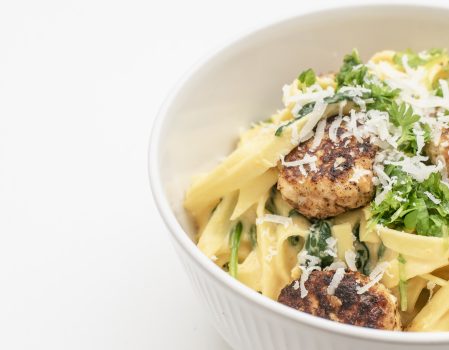 ---
Other recipes with pumpkin
⇒ Halloween muffins
⇒ Pumpkin soup